Categories
Categories
Brands
Brands
Starrett 3811A Used Preowned Portable Hardness Tester with D Impact Device
Starrett 3811A Used Preowned Portable Hardness Tester with D Impact Device
Product Description
The Starrett 3811A is a state of the art, digital portable tester that is designed to test the hardness of large hard metal parts.
The 3811A combines fast test speeds coupled with ample memory and output. It performs tests that easily convert to most popular hardness scales such as Rockwell, Brinell, Vickers and Shore.
The pictures in this listing are of the actual tester being offered. This 3811A Starrett tester is used, is in excellent condition and still has the protective film over the display. We have cleaned and calibrated this tester and it is accurate and consistent. The test block has been used about 40% and is still good for many more verification tests. 90 day warranty.
Call or email for shipping quote outside of the continental USA.
Specifications:
Accuracy: +/- 0.5% (referred to L=800)

Repeatability accuracy: +/- 4L units L= Leeb

Measuring Range: 200-960 HL

For steel & cast steel, alloy tool steel, stainless steel, gray cast iron, spheroidal iron, cast aluminum, brass, bronze, wrought copper alloy

Tool steel should be about 1" thick solid material or larger

Operating temperature: 5-104 degrees F

Dimensions: 5.96 x 2.938 x 1.270" (150 x 74 x 32mm)

Weight: 8.6 oz. (245 grams)
Functions:
Simple to use keypad

Auto identification of impact device

Large LCD with back light

USB output

Auto conversion to commonly used scales

Auto mean value and min & max values

Battery indicator

100 group memory capacity
Data Sheet pdf For Starrett 3811A
Which scales can this tester convert to?
Test results can easily convert to the more popular hardness scales: Rockwell (HRB & HRC), Brinell (HB), Vickers (HV), Shore, etc...
How thick does the part have to be?
For testing large hard parts such as tool steel, the thickness should be close to 1" thick or more. If the test piece is coupled, it is possible to test down to a 3mm thickness.
How easy is it to operate?
The 3811A is simple to operate. First you need to load the impact device by simply cocking it. This moves the impact body, which is within the impact device, into the start position. Next, place the impact device onto the surface of your test piece. Finally, push the button on top of the impact device to initiate test and obtain reading.
What do I get in this package?
Standard accessories are: Tester, Impact Device "D", Calibrated Test Block, Software, Custom Carry Case, Cleaning Brush, and Operation Manual.
What optional accessories are available?
A variety of impact devices are available such as DC, D+15, DL, G, and C. (see details below)

A 12 piece Universal Support Ring Set is available for use on concave or convex parts (minimum radius of test piece curved surface without support ring: 1.2" (30mm) or 7/16" (11mm) with support ring).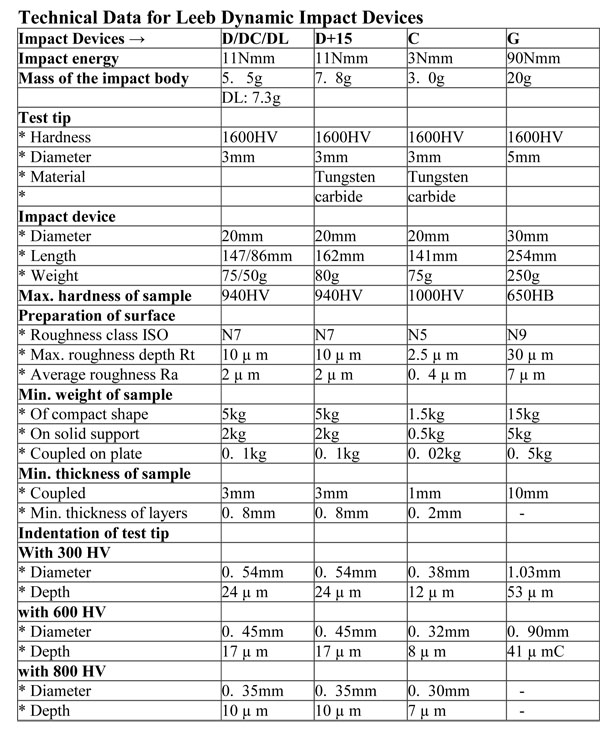 Warranty Information
Product Reviews
Find Similar Products by Category
Customers also viewed