Categories
Categories
Brands
Brands
King Brinell Additional Roller Chain For Use With Chain Adapter Model C3
King Brinell Additional Roller Chain For Use With Chain Adapter Model C3
Please call for pricing (252) 344-2309
King Brinell Additional Roller Chain For Use With Chain Adapter Model C3
Please call for pricing (252) 344-2309
Product Description
King Brinell Additional Roller Chain Model C3 For Use With Chain Adapter Model A3 & Model C2
Quantity of (1) equals one foot of Roller Chain, model C3. Determine how many extra feet you will need as follows.
Example: You have a 24" diameter and need enough chain to go around it. You can purchase the roller chain by the foot and then add it to the four foot roller chain that is included with the chain adapter, using a master link (purchased separately).
Use this formula:
Diameter (in inches) x 3.14
= Chain length in feet
12"
24" x 3.14
= 6.28 feet 6.28 feet - 4 feet (the amount of chain that comes standard with the chain adapter)= 2.28 feet
12"
You will need to purchase an additional 3 feet of roller chain.
A Master Link is also needed to join the 4 foot length to the additional length of chain.
ASTM E-110
Note: If your need is urgent, call or email for delivery before ordering.
Nothing beats King Brinell for accuracy, versatility, durability, and affordability.
The King Brinell is designed to make impressions that are used to measure the hardness of a metal. A universally recognized tester, the King portable Brinell has a number of advantages.
Permanence - Impression can be checked and rechecked at any time.

Accuracy - Calibrated accurate to 1/2 of 1% of load. Can be used for higher loads up to 3,000 kg. Breaks through surface heat treatment to get to the core of the material.

Durability - Some King Portable Brinell testers have been working for over 60 years.

Versatility - Can be used in virtually any position: right side up, upside down or sideways. Take the tester to the metal, not the metal to the tester
On the market for over 60 years, King Brinell units are lightweight, easy to maneuver and require only one operator, making them ideal for use as portable or bench units.
Easy To Use.
Versatile enough to test virtually any size and shape of metal specimen, King testers are easy to use. The operator simply places the specimen between the anvil and the test head, cranks the test head down onto the specimen, locks the tester in place, closes the pressure release valve, and pulls the hydraulic lever until the desired load is reached. The unit applies up to a 3,000 kg load on a 10mm ball, making a lasting impression, which is available for re-reading at any time. A by-pass valve is automatically activated at the calibrated load, eliminating the chance of overloading. The impression is then read and recorded by the operator using a Brinell microscope such as the King Deep Reading 20X Microscope or a Kingscan Automatic Brinell Microscope.
Quality Product.
The King Portable Brinell meets all international standards for Brinell testing including ASTM E-110, British Standard #240, Pt. 2, Sect. 1 and JIS Standards, and is calibrated to 1/2 of 1% of load on equipment traceable to NIST Standards.
Optional Adapters And Component Parts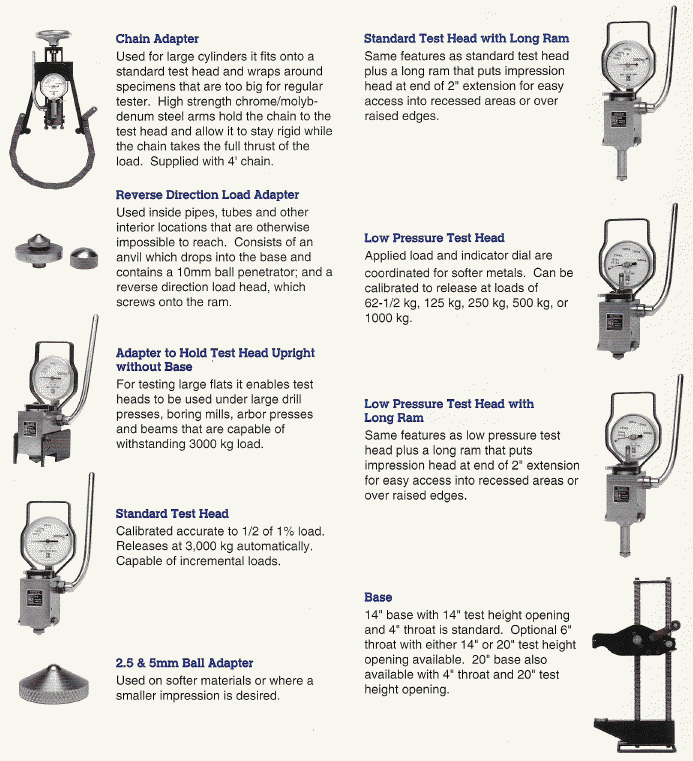 We carry all King Portable Brinell Hardness Testers, Bases, Adaptors, Component Parts and Test Blocks. Call or email for a quotation.
Product Reviews
Find Similar Products by Category
Customers also viewed